WizKids Bets Big on Tabletop Terrain with New 4D Miniatures Premium Sets
Following up on the success of their unpainted miniatures line, WizKids is rolling out a slew of amazing terrain pieces to help players and GMs tell stories in new, immersive ways.
"4D" is a signal to customers that the product isn't just a prop; it helps the group tell a story using high-quality, affordable miniatures in new and unique ways. Promising to once again partner with retailers and customers, WizKids is committing to creating a line that will redefine how these products are purchased.
What are 4D Settings?
WizKids' 4D Settings include a comprehensive assortment of high-quality, meticulous miniatures that make up a location or scene. Most current terrain or setting miniatures are static, single pieces. They may have a door but offer little in the way of interactivity. WizKids' 4D Settings create interesting play experiences and help game masters create new scenarios with their dynamic nature. They include interactive elements like LED lights and hidden elements like trap doors and secret compartments. These props help create while also pushing players to think about how to interact with their environment in ways that wouldn't happen with many current products or in theater-of-the-mind style play. A 4D Settings is meant to serve as a perfect backdrop to complement the PC and NPC figures players already own.
Why is 4D better?
All come pre-painted or pre-primed and usable right out of the box! GMs have more time for building encounters and creating memorable gaming moments since they won't spend hours curating minis in preparation for the game, gluing pieces together, or priming.
Competitively priced! As with their unpainted minis, WizKids is betting big on keeping 4D Settings accessible. Prices are expected to range between $29.99 for smaller sets to $89.99 for large sets.
Complete scenes! Need an idea for tonight's session? Browse the shelf at your FLGS for a box to inspire you.
Reusability! The more you have, the more stories you can tell!
Real, working functionality! These versatile products will help inspire the campaign by allowing players and GMs to explore more creative gameplay strategies.
For example, the Castle Barracks (MSRP $49.99) set was made with a group of 6 guards in mind, and you see that reflected in the items included (6 of each pole arm, 6 bunks, etc.).
Examples of 4D Scenery that are coming out: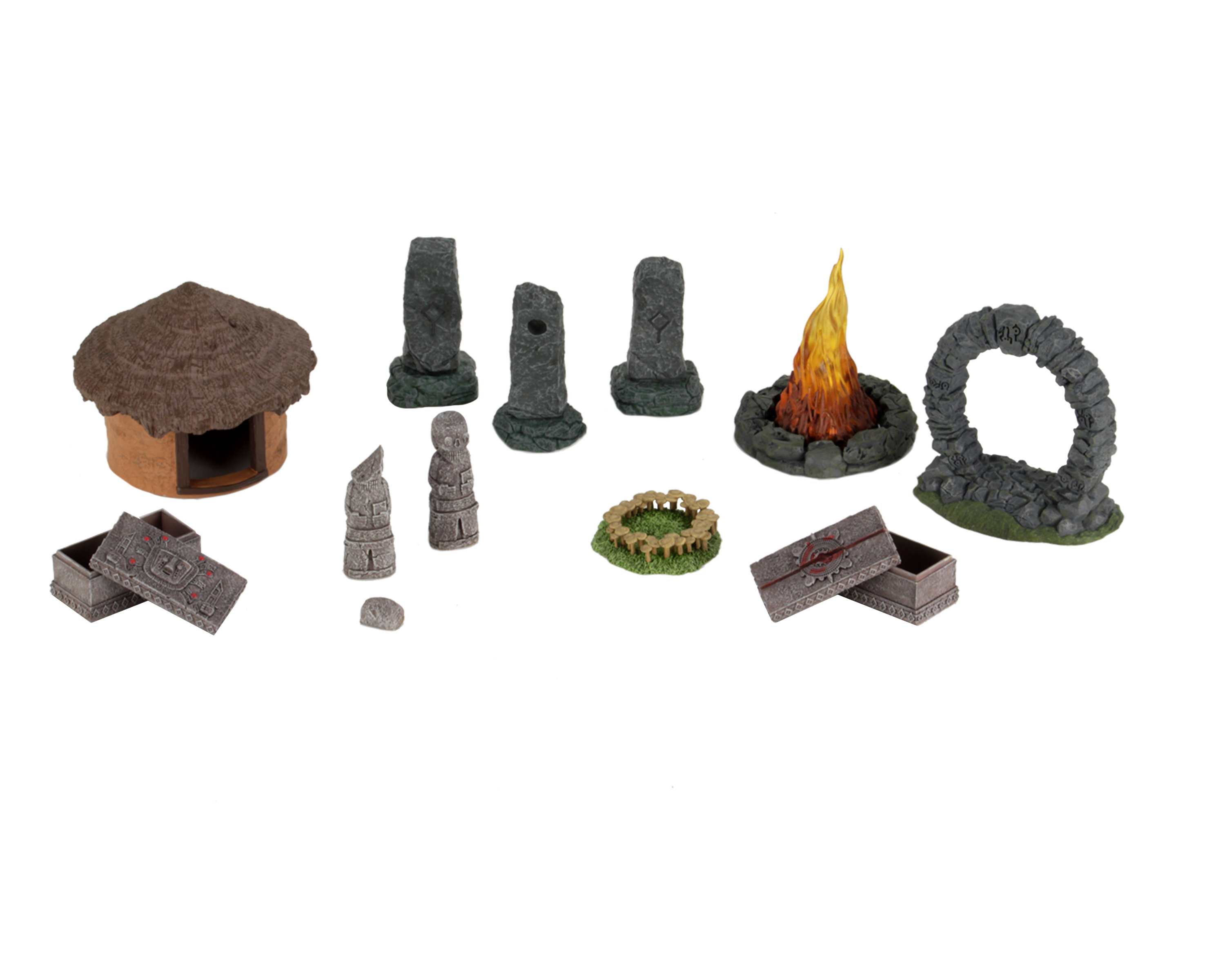 Jungle Shrine
The first product to launch later this summer is the Jungle Shrine (MSRP $69.99). This scene represents a shrine, temple, or important NPC hut that players might encounter deep in a jungle or near an enchanted forest. There are several architectural pieces meant to set the mood of a long-forgotten place of power including a stone gateway and statues. There is a blood-stained altar with a removable top that GMs could use to hide various things. The standing stones light up in several ways to help serve as prompts for the players. Do the glowing runes mean danger, or are they part of a puzzle the players need to solve? What will happen if a player steps inside the curious fairy circle of mushrooms? Only the GM knows.
Townspeople & Accessories
The Townspeople & Accessories (MSRP $59.99) set is one of the line's first pre-primed, ready-to-paint scenes. It includes a variety of figures for GMs to use to populate a bustling town square, and making it a ready-to-paint set allows GMs to tailor it to a variety of game worlds. With 19 different NPC figures, plus tools and equipment, it can really bring a town to life. Rather than telling players what surrounds them in the market square, a GM can point to market stalls bursting with goods, or a group of bandits preparing to rob them. Players can now use visual cues to find out where their next quest might start, or who might be able to help them gear up for their next dungeon delve.
Castle Barracks
This pre-painted set is meant to represent the bunkhouse for 6 guards, perfect for a ruined keep or a bustling guard house.
Gas Station
There will also be 4D Settings for modern and futuristic games like HeroClix. The Gas Station set provides a great example of what players can expect from the modern sets in the line. There are several large pieces of covering terrain to duck behind in a shootout, including the station sign and soda machine.
Also coming soon — WarLock™ Dungeon Tiles!
First mentioned at GAMA Trade Show this past March, these locking, 1-inch-square gridded tiles allow for quick and easy assembly of locations as play environments. They come pre-painted, with two types of terrain on each side, such as worked stone or wooden tavern floors. WizKids has come up with a novel solution to walls intruding into grid space with offset exterior walls and super-thin interior walls that fit between tiles without obtrusion. There's a lot more to come so stay tuned!
What to expect in the future?
A lot. WizKids plans on releasing several 4D Settings over the next few months to cover a variety of different locations, and they expect to continue doing so into the future. Fantasy game players can expect a complete set of objects for a Castle Barracks, as well as a siege scene complete with battering rams and trebuchets. For players and collectors looking for modern or futuristic settings, there will be sets themed around construction sites and highways, as well as prisons and more! There are also plans to go further into the future, with sci-fi offerings like space stations and starship interiors in the pipeline.
Note: Photos within and related to this article are not of final product. Final product subject to change.